You're Reading:
Catalyst Community Developments Society - Rivermark Place, Richmond
Homes: 31
Acquisition Loan
With a rental housing market as challenging as Metro Vancouver's, it pays to get creative with non-profit housing.
In 2007, Richmond's Affordable Housing Strategy made it a requirement that any new development plan had to make 5% of the total residential floor area into below market rental housing. In 2017, the City raised the quota to 10%, presenting a challenge to developers who are not typically in the business of running rental housing projects. For example, Intracorp, a North American property developer that began in Vancouver, BC, was creating 31 affordable rental homes in its Rivermark Place development in Richmond beside the Olympic Oval and was seeking a solution for owning and operating the units.
"They got in touch with us and said, "Would you be interested in purchasing these homes and owning and operating them over the long term?" says Robert Brown, former President of Catalyst Community Developments Society, adding that he believes Richmond's policy is "very effective at delivering affordable housing."
A not-for-profit developer, Catalyst helps non-profit organizations and churches unlock the value of their real estate assets to build community spaces and affordable housing, which in turn can provide ongoing revenue for the organizations. Catalyst also partners with non-profit landowners, bringing development expertise and capital for construction, and often manages and maintains the properties when they're finished. Catalyst has built and planned over 950 affordable rental homes and 78,000 sq. ft. of community non-profit and commercial spaces. When all the homes are complete, Catalyst estimates they will provide residents with approximately $10 million worth of savings on rent each year.
"What we are really trying to do here is create a better community," says Robert. "What do you need in that community to make it better for the people that live in it? One of the things is housing that's affordable for the income that you earn. Catalyst always tries to keep that front and centre in what we do."
Intracorp made an offer: Catalyst could buy the affordable homes with a deposit of just under $800,000, a lower price that reflects what the homes will rent at below market rates.
Catalyst needed to buy time. Coming up with that amount of funding on short notice would be a challenge for any non-profit. With the offer on the table, Catalyst reached out to Vancity Community Foundation and Vancity Credit Union, who have worked closely with Catalyst since its inception by providing funding and financing from the Credit Union and the Vancity Affordable Housing Accelerator Fund for many of its projects. Here's where things got creative. The Foundation approved an impact investment, in the form of a letter of credit, so Catalyst could purchase the homes, guaranteeing that Vancity would cover the deposit if Catalyst didn't close on the purchase. Intracorp accepted the letter, which meant both the Foundation and Catalyst kickstarted an affordable housing solution, without putting any money down.
Buying units from another developer was a first for Catalyst. Now they had ample time to raise the $800,000 for the deposit and secure financing for the rest of the purchase price before the deal closed and the project opened in March 2020. In addition to the letter of credit, the Vancity Affordable Housing Accelerator Fund was also able to provide an acquisition loan to help complete the purchase.
This is one scenario where everyone wins. Intracorp fulfilled its commitment as a developer to Richmond's Affordable Housing Strategy. Catalyst wins because it found another innovative strategy to expand its portfolio of affordable housing without having to build the housing, and Vancity wins, because it moved the meter on affordable housing. However, the biggest winners are the families and individuals in Richmond in the low to moderate income bracket earning approximately $49,000 to $73,000 annually. They have the opportunity to live in a beautiful new development and enjoy a vibrant new community that is close to the Sky Train, near the Fraser River, with access to a shared roof top garden – all at a price they can afford with rents between $1,250 and $1,850.
You're Reading:
Mount Douglas Seniors Housing Society -1550 Arrow Road, Saanich
Homes: 84
Feasibility and Business Planning Grants
Pre-Development Loan
The Mount Douglas Seniors Housing Society has provided comfortable homes and a safe, caring community for lower-income independent seniors aged 55 and older since the early 1970's. Their long-standing success in service to older adults is made possible in part by the dedication and generous support of the Anglican Church Women (ACW), who continue their community service today as a ministry of the Anglican Diocese of British Columbia. The society now has two affordable housing buildings on their property that was donated from the Anglican Church Women over 40 years ago – Mount Douglas Court and Mount Douglas Manor.
Mount Douglas Manor is a three-story affordable seniors rental residence situated along the 1500-block of Arrow Road in Saanich in Victoria's urban core. In response to a need for affordable housing for seniors, the Anglican diocese along with the Mount Douglas Seniors Housing Society decided to undertake a new development project for affordable senior rental housing on a vacant portion of their property that was next to their existing building that was built in 1971 (Mount Douglas Court). The Manor was completed in 2019 and was awarded the Victoria Real Estate Board's Award of Excellence for affordable housing design.
The Society received grant support from Vancity Community Foundation for the feasibility and business planning stages of the project, and a pre-development loan from the Affordable Community Housing Accelerator Fund.
Many seniors are reaching retirement age and do not have sufficient pension income to afford market housing. Mount Douglas Manor offers affordable rents and adds "a little bit of luxury" to senior living by offering comfortable amenity spaces and extensive landscaping with walkways and raised planting beds for residents growing vegetables and flowers. The building is "Built Green Gold Technology" and offers 36 studios at $670 per month, 48 one-bedroom units at $875-920 per month, and includes two fully wheelchair accessible units.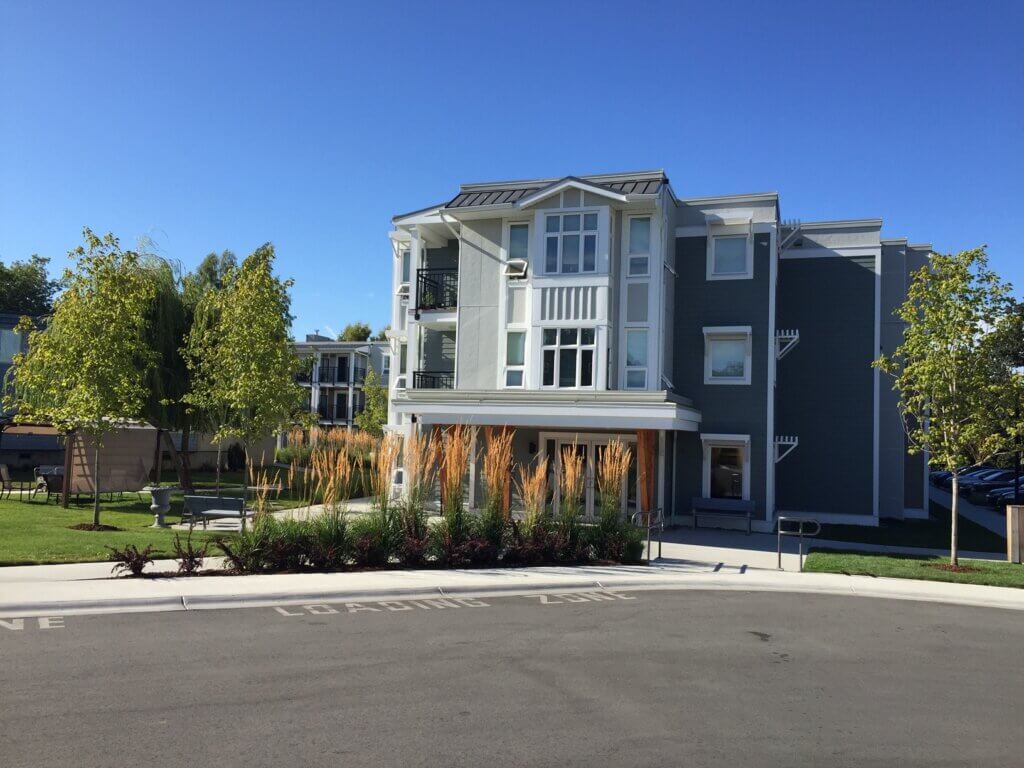 You're Reading:
Soroptimist International of Vancouver -543 West 13th Ave, Vancouver
Homes: 135
Business Planning Grant
Pre-Development and Pre-Construction Equity Loan
With the help of the Affordable Community Housing Program, Soroptimist International Vancouver is redeveloping their Soroptimist Apartment House as a "for women, by women" affordable housing space.
"When you help a woman, you help her whole family." – Carla Busnardo, board member of Soroptimist International Vancouver, leading the development committee.
Soroptimist International Vancouver is dedicated to improving the lives of women and girls through programs leading to social and economic empowerment. For this organization, "soroptimist" is more than just a name: it means "best for women". This group of professional women has been working to improve the lives of women and girls locally and internationally since 1926, and they do it in part by operating social housing that assists women in Vancouver.
The Soroptimist Apartment House (SAH) is just one example of this: it was built to provide vulnerable women with an affordable home more than 60 years ago. But in 2021, Soroptimist International Vancouver began their journey to redeveloping the land to serve even more women.
The original SAH, at 546 West 13th Avenue, was a 21-unit apartment building nearing the end of its life. As maintenance and improvement costs grew to exceed the replacement costs, Soroptimist began pursuing a 13-storey stylish redevelopment that would offer 135 units of long-term social housing for women in the workforce, senior women, single mothers, and their children.
First, Soroptimist participated in a feasibility assessment with the Urban Land Institute in 2017. It was during that process that Soroptimist, Vancity, and Purpose Driven Development joined forces, and the City of Vancouver began reviewing the rezoning application. Purpose Driven Development has the same focus in mind: they're bringing together a team of women from different disciplines to deliver this project, making Soroptimist Apartment House a project for women, by women.
"We're excited to be part of a project that's addressing the glaring gap of housing needs for women and providing spaces in the building like a rooftop garden to help women connect and thrive," said Carla Guerrera, Founder and CEO of Purpose Driven Development.
On top of serving a community of women, Soroptimist Apartment House was designed with functionality in mind: the project includes plenty of shared outdoor gather and amenity spaces, while indoor spaces feature large balconies and windows, each inspired by nature with the use of natural materials and neutral tones.
This 13-story, 135-unit housing project is set to break ground in August 2022 and include a combination of compact studios and 1, 2, and 3 bedroom units.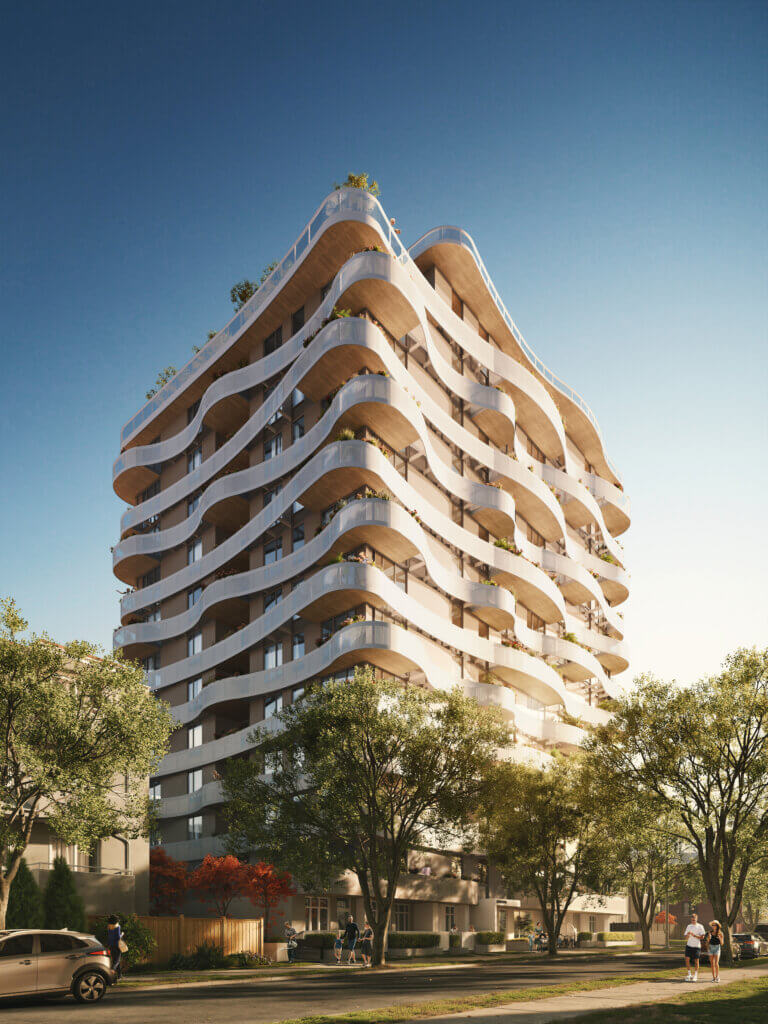 You're Reading:
Anhart Community Housing - 1270 Ryder Street, Hope BC
Homes: 40
Pre-Construction Equity Loan
The Ryder is a 40-unit affordable rental community which opened for tenants in April 2020. It is the first of Anhart's projects to be completed in Hope BC – a small town which has experienced a rental housing shortage due to rapidly rising property values and loss of units.
The Ryder's tenant selection focuses on people who already live or work in Hope, supporting seniors, people working entry to mid-level jobs, people with disabilities, and small families.  The building includes studios, two and three bedroom units.
The Affordable Community Housing Accelerator Fund loan helped them cover costs associated with pre-construction for the project – such as advancing building design, obtaining permits, and advancing the project through construction and into occupancy.